The Photon User Interface allows pilots to customize the details they see on screen to suit their individual needs. Many of the most helpful options have been collected below, and pilots are encouraged to experiment with their setup to find their optimal layout.
Most settings can be found within the "More" menu
Many settings and extra menus have been consolidated into the More menu (the three vertical dots) in the top right of most windows.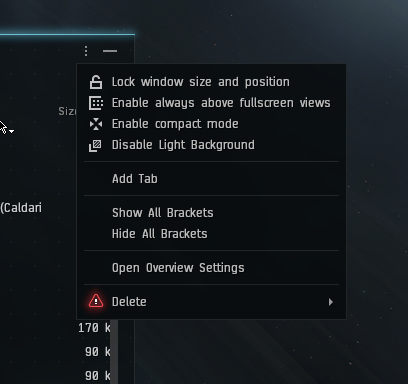 Light mode transparency
You can adjust the transparency levels for regular windows and light mode windows separately. For example, you can turn off light mode globally by dragging it to the off state.
Transparent windows allow you to see details that may have otherwise been obscured, whereas non-transparent windows may allow greater focus on the window's contents.

The drones window
Within the drones window you can choose to have a warning shown on-screen if you are about to warp away before retrieving your drones. This warning may allow you to prevent an accidental loss.
You can also change how your drones are displayed within the window. You may choose to display them as icons or in list form, depending on your preference.
Compact mode
If you find yourself running out of room on your screen, you can choose to enable compact mode for your open windows. Compact mode removes the header of windows, potentially allowing more to be displayed at once.

Window margin size
For more control of the size of windows, you can customize the size of window headers and margin sizes under General Settings and Window Appearance.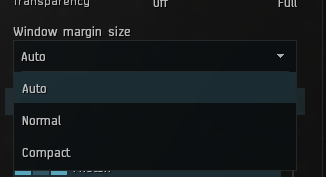 Multiple overviews
You can arrange multiple overviews on your screen by moving an overview tab to its own window. Do this by Right-Clicking the chosen tab and select 'move tab to'.
Multiple overviews can allow you to customize the information given to you, like having two separate windows for enemy and friendly pilots.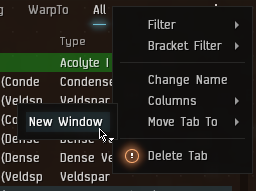 Lock windows via the top right menu
If you want to lock the size and position of a window, you can do so from the more menu in the top right corner. Locking a window can prevent its accidental repositioning during stressful encounters and ensure that windows stay in place between sessions.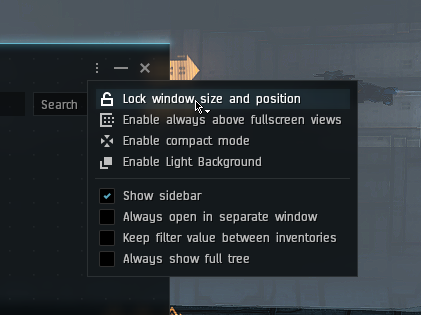 You can collapse windows by double clicking the header
If you would like to minimize a window without closing it completely, you can do so by double-clicking its header. When you want the window to return to its original size, double click its header again.

You can drag-snap window edges together
Snapped windows can be dragged and resized together by holding Shift while dragging them.