The relentless pursuit of deepening your immersion in New Eden continues with the unveiling of the newest EVE Launcher, now available. This is a crucial step forward in our effort to streamline your journey into the heart of EVE Online, creating an intuitive environment that caters to your needs as a pilot. You are invited to dive in and try out the new version by downloading it here.
The launcher offers an immersive experience by putting your characters front and center, and offering personalized content, in addition to improving security and performance. The launcher also enables automatic updates and native support for all operating systems and architectures supported by EVE Online. It also offers a more tailored experience that depends on players' familiarity with the game, with new players getting a simplified version and educational content, while veterans can focus on character management and communication.

The Front Page
The left side of the window contains the latest news and events in New Eden.
The middle portion lists of all the accounts known to this launcher. Clicking account will reveal a list of the characters belonging to that account.
The right side of the window holds the Account Details pane. The options here will interact with the selected account. At the bottom right is the Notifications and Offers panes
CHARACTERS IN FOCUS
Your characters take center stage in the launcher. For each of your accounts, you will see the names and portraits of every pilot under your command. Launching into New Eden will now be faster than ever before. Simply select character and click "Play Now" to launch the game client. You can assign specific characters to launch groups, although this is optional, and you may opt for the Character Selection screen instead. Should you prefer the classic character selection screen, changing it is as simple as opening the settings menu and selecting your preference under Game Client.
ENHANCED SUPPORT FEATURES
Filing a bug report has never been easier – you can now submit one directly from the launcher, with all pertinent support information attached automatically. Keep in mind that a username is necessary, so you must be logged in before filing a bug report.
For other needs, such as requests from our Customer Support, you can generate a "Support Payload," an archive containing relevant logs, crash dumps, and other valuable data for our investigation. These support functions can be found under Settings -> Tools / Cache.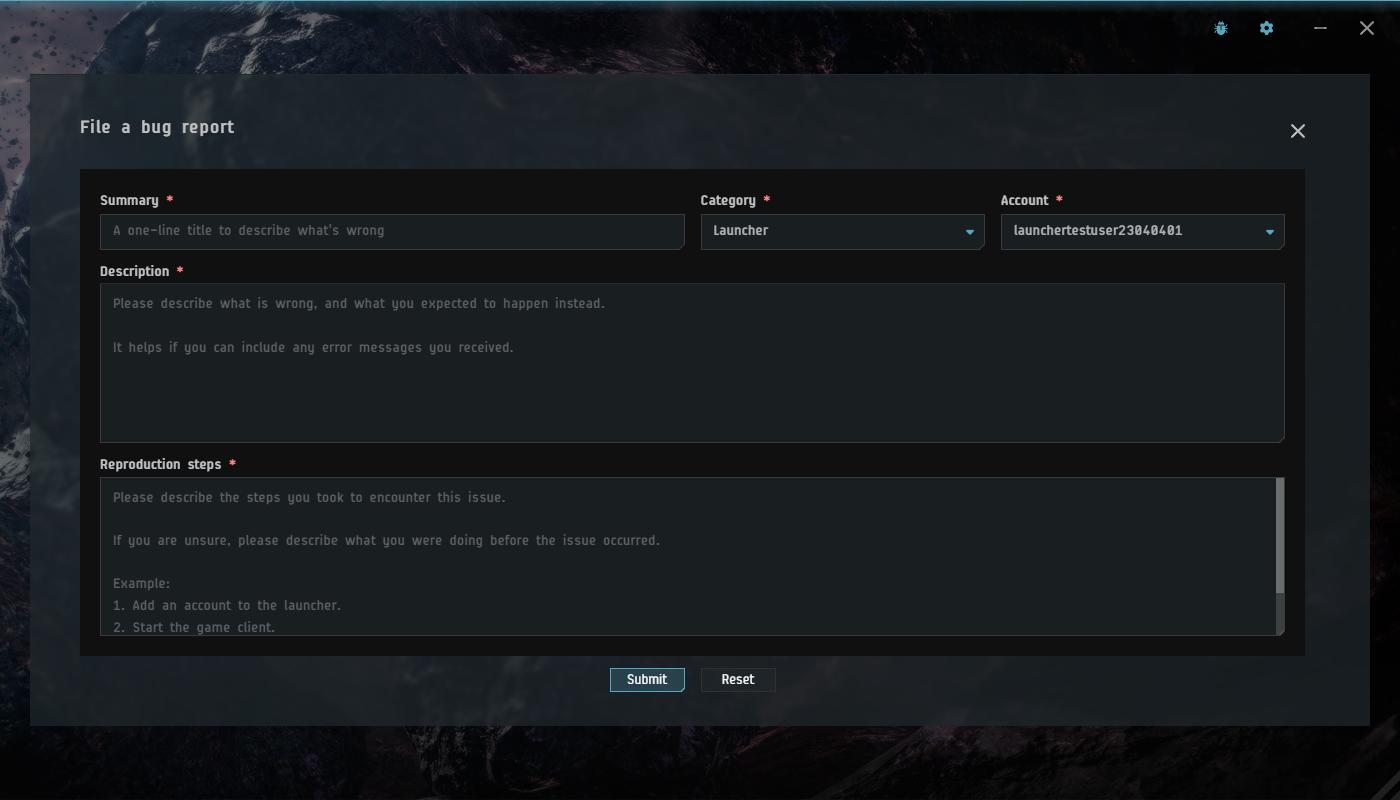 WORKING WITH THE LEGACY LAUNCHER
When installing the new Launcher, you don't have to remove the legacy EVE Launcher. For those installing the Launcher on a system with an existing Legacy installation, please consider the following:
The new installation process requires no input, just give it a few seconds.

When you open the launcher for the first time, it will pick up your game installation folder, accounts and profiles automatically.

Avoid having both launchers open simultaneously to prevent the update procedure from corrupting your installation. If it does happen, the launcher will resolve it automatically.
Clicking the Launcher cogwheel in the top right corner.
The left side of the window contains the following menus:
Launcher
Game Client
Tools / Cache
Launch Groups
About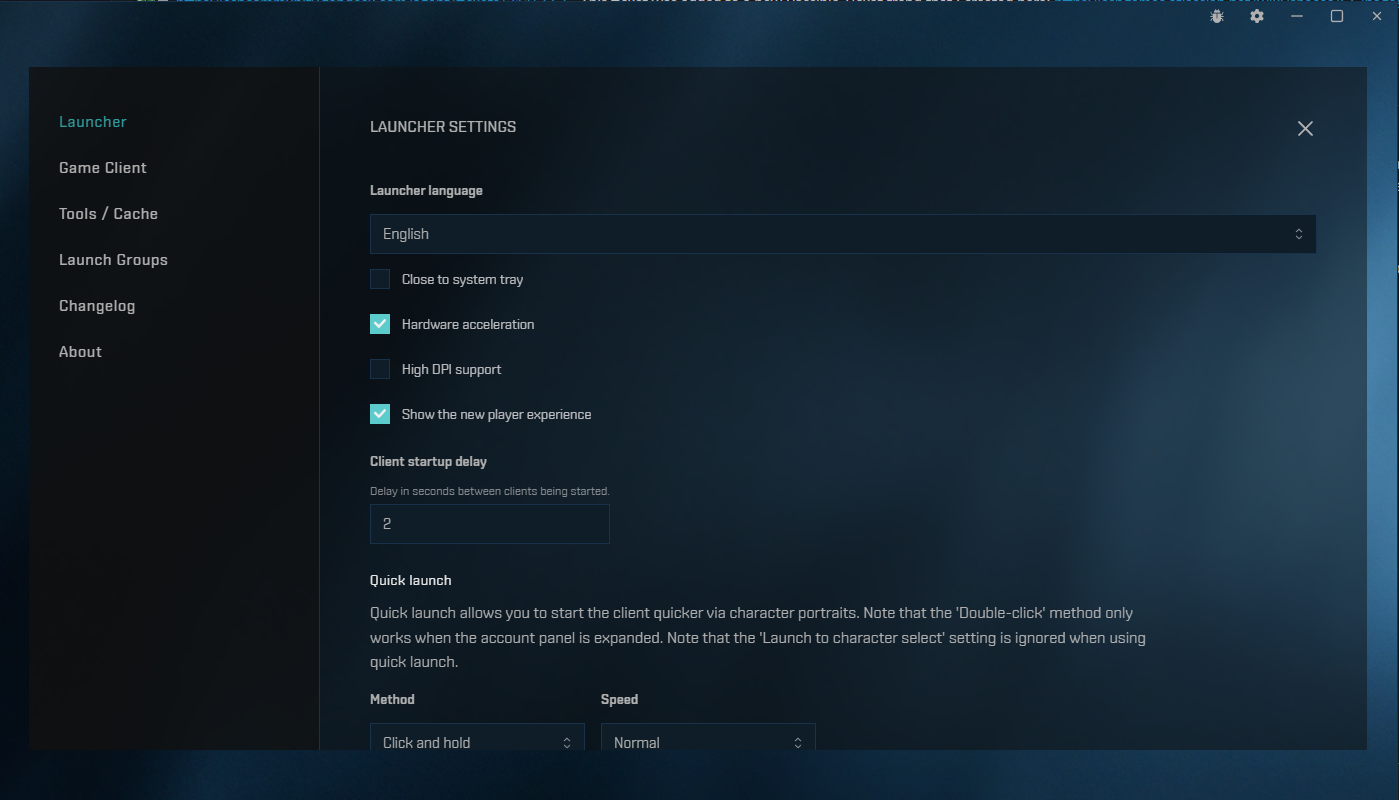 Launcher
General settings for the launcher can be changed here.
Select launcher language.
Close to system tray: If checked, this will keep the launcher running in the background instead of closing it when the 'X' in the top-right is clicked.
Hardware acceleration.
High DPI support: Can be helpful for users with 4K monitors.
Show the new player Experience: Enables or Disables the NPE when creating a new character.
Client startup delay.
Quick launch settings.
Game Client
General Game Client settings
Select DirectX version: If graphical issues occur, try changing this setting.
Launch character select by default: Overwrites all other settings and always goes to Character Selection
Reset all accounts to default.
Tools / Cache
Tools & Cache settings
Cache

Check for game update.
Verify Game files.
Browse game files.
Move game files directory: This moves the SharedCache folder to a different location.

Debug tools.

Open log directory: This opens the log directory on the user's system. This displays launcher logs and events.
Start Loglite: This is the logging tool used by Tech Support to help diagnose Launcher and/or Client issues. See this article LogLite tool for more information.

Run Loglite with game client.

Look for profiles.
Logout all users: This logs out all user accounts on all launcher they have been added to
File bug report: New in the launcher is the ability to submit Bug Reports directly from the launcher. Clicking it opens the Bug Report form to fill out, and the 'Bug' icon in the top-right is a shortcut to the same form.

Generate support payload: This creates several different logs and is used by Tech Support to diagnose and assist players with Launcher and/or Client issues. Included in the support payload is a DxDiag and various Launcher Logs. If the 'Include network diagnostics' check box below is checked, several network logs are included, such as ping, pathping, and tracert logs.

include network diagnostics [takes longer to generate].
Launch Groups
Add launch group.

Add launch group name. 
Create launch group.

Launch groups are listed by name and which accounts are in them.
Changelog
launcher versions and what updates were applied in each version.
About
Information on the launcher and the current launcher version.